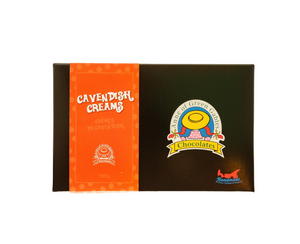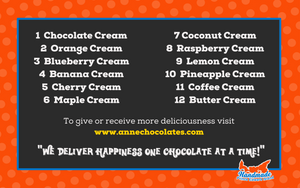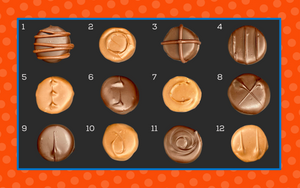 A variety pack of creamy flavoured centers enrobed in milk and dark chocolate.
The flavours includes Banana, Blueberry, Butter, Cherry, Chocolate, Coconut, Coffee, Lemon, Maple, Pineapple, Orange, and Raspberry.
We've brought a taste of Cavendish to you - and saved you the trip!
12 pieces contain 160 g.
Has a 6 month shelf life.
♻ Compostable/recyclable box
Ingredients
Sugar, Milk Chocolate (sugar, milk, cocoa butter, chocolate liquor, soy lecithin, vanillin), Semi-Sweet chocolate (sugar, chocolate liquor processed with alkali, cocoa butter, milk fat, soy lecithin, vanillin), Cream, Butter, Chocolate liquor, Vanilla A Peels (sugar, palm kernel and palm oils, whey, nonfat milk, titanium dioxide colour, sunflower lecithin, Natural flavours and vanilla), Coconut, Invertase. Contains: milk and soy May contain: peanuts and nuts.
Yummy
Although the Creams are my favourite. The flavours so good. I have tried all of the chocolates you make and can say they are all delicious. One of my guilty pleasures
Diversity
I was envisioning a box of duplicated flavours -- but instead I got a box of diversity with each chocolate a new taste sensation.
a little "delicious" to your day
The delicious flavours collide in the chocolates. All the flavors are equally good.
Quality chocolates
I tried different brands of chocolates, but I always come back to the Anne of Green Gables chocolates. They are the best, love the Cavendish Creams. I love ordering online and getting my treats in the mail. Fast shipping.
The best creams
Literally the best. Order 'em to the other side of Canada for a taste of home!