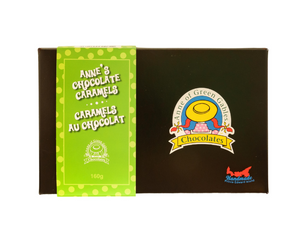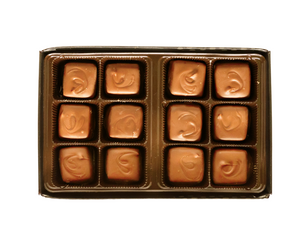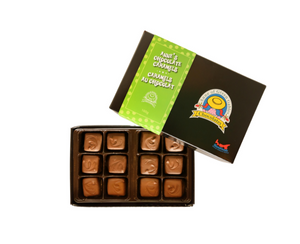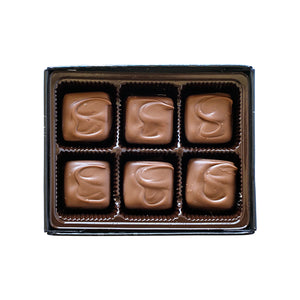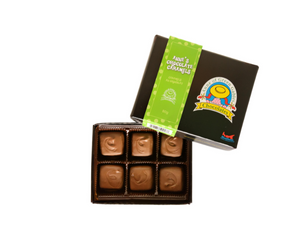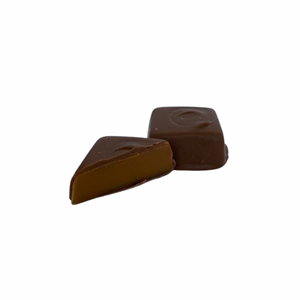 Anne's Caramels Chocolate Box
"Delicious! These are some of the best-tasting chocolates I've ever had!"
– Nicole 
Our traditional Prince Edward Island caramel wrapped in smooth milk chocolate.
Anne often dreamed of having chocolate-covered caramels - you can have some for real!
6 piece box contains 80 g.
12 piece box contains 160 g.
Has a shelf life of 1 year.
♻ Compostable/recyclable box
Ingredients
Sugar, Butter, Cream, Milk Ingredients (concentrated milk, sugar, lactose), Milk Chocolates (sugar, milk, cocoa butter, chocolate liquor, soy lecithin, vanillin), Vanilla, Salt. Contains: milk and soy May contain: traces of peanuts and nuts.
The best milk chocolate caramels!
The rich buttery caramel was delicious and covered in the best milk chocolate I've had in many years!
Chocolate caramels to die for
We bought a small box of Anne's Chocolate caramels when visiting the Cavendish Boardwalk in PEl. They
were so good.
We liked them so much that when we arrived back home in Québec, we checked online to see if we could order some … and yes you can! Free
shipping if you order over $100. So five boxes found a new home!
Describing them in one word: Delicious!
Worth shipping from Canada!
Both my husband and I agree that these are some of the smoothest caramels we have ever tasted. And, he brings back chocolate covered caramels whenever he travels -- so we have tasted quite a few! Definitely worth having shipped to the USA from Canada!
Carameliscious
The chocolate and caramel fuse together in your mouth to create an incredibly happiness of flavour. By far my favourite chocolate caramel.
Delicious!
These are some of the best tasting chocolates I've ever had!