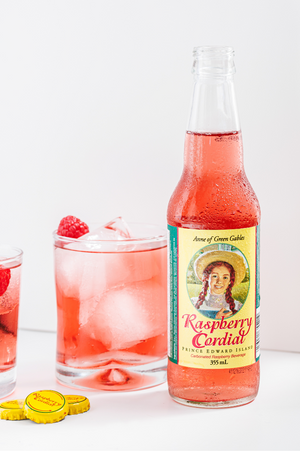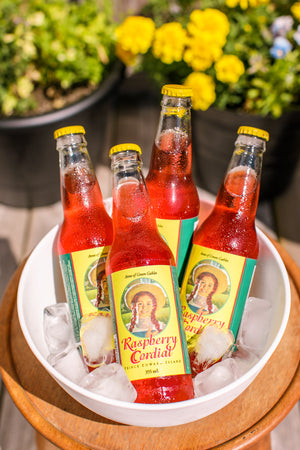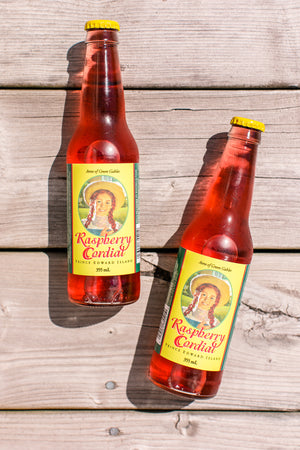 Raspberry Cordial (Box of 12)
"...I just love bright red drinks!..." - Anne Shirley
A raspberry-flavoured sparkling beverage that is unique to PEI. Featured in the book Anne of Green Gables. Anne loved bright red drinks and we know you will too!
Raspberry Cordial contains no artificial flavours or colours and only contains 110 calories in a 335 ml bottle.
Please Note: 
This product is now available for ground shipping within Canada & the US! The shipping fee is built into the price of this product. When completing checkout shipping will be removed before payment. Please note that each box gets shipped separately. 
♻ Recyclable glass bottle.
Looking to sell Raspberry Cordial? Contact us at order@annechocolates.com for wholesale opportunities. 
Yum yum all year round
We are so pleased that Raspberry Cordial is available to us in Ontario, all year round. It is a hit with not only our children, but adults as well at Sunday dinners! I love this stuff!
Exceptional service and delivery!
Fastest shipping I've ever received! Celebrating a late friends birthday with her favorite drink, we can't wait to honor her. Thank you again for this 💗
Favourite
Delicious refreshing drink. Love it
Amazing
Geat product shipped quickly ,have not had one in 2 years brought up great memories
Absolutely perfect
This has got to be the best craft soda I have ever had!! Hands down worth every penny.