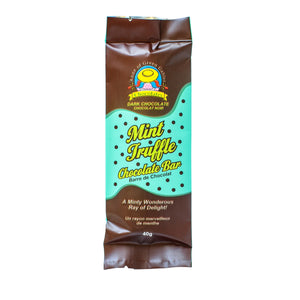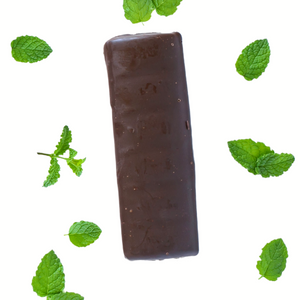 Mint Truffle Chocolate Bar
A peppermint center surrounded by delicious dark chocolate.
Chocolate mint lovers - one bite and it's over.
Has a 1-year shelf life.
Ingredients
Semi-Sweet Chocolate (sugar, chocolate liquor processed with alkali, cocoa butter, milk fat, soy lecithin, vanillin), Coconut oil, Milk Chocolate (sugar, milk, cocoa butter, chocolate liquor, soy lecithin, vanillin), Artificial flavour, Salt, Peppermint oil. Contains milk and soy. May contain: peanuts and nuts.
Nutritional Information

Best Chocolate Ever!
I was on vacation in Whistler, and stopped to have ice cream at their well known ice cream parlor. I saw the mint truffle chocolate bar, and I bought 1 just to satisfy my chocolate craving.
It was so good, I went back the next day and bought 12 more! It was so good, I didn't really want to share it with anyone else, but I did. And everyone agreed, it is the yummiest, creamiest chocolate we have eaten so far, and we have eaten a lot of chocolate. I enjoyed it so much, that I had to look it up online when I arrived back home in Hawaii, and have ordered my first online order. Thank u Anne of Green Gables for the delicious treat!!
Yummy
Ate it in one sitting. The one year warranty was not tested by me. Lol
Premium!
Hands down the best mint chocolate bar I have ever eaten. Creamy and delicious. I'm hooked!!
What a happy yet dangerous discovery!
I received one of the Mint Truffle Chocolate bars in a gift basket this Christmas. They're not kidding when they say 'one bite and it's over' under the description. There was a nice amount of bar there but definitely the kind that you will eat until gone! I'm glad there was only one in my basket as it too would be gone lol.
Mint Truffle Chocolate Bar
This is the best tasting mint chocolate bar I have had. It melts in your mouth. I think I am hooked