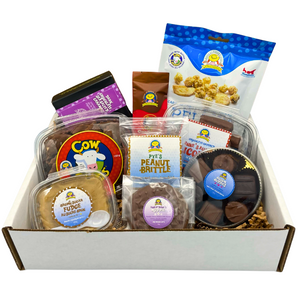 Handmade goodies deliver happiness!
Includes:
COW Chips (150g)

ANNE Caramel Corn (50g)

Mini Fudge (130g)

6 piece Boxed Chocolates (80g)

Bosom Buddies (95g)

Mud Pie (50g)

Pye's Peanut Brittle (115g)

Anne's Auburn Chocolate Covered Licorice (185g)

Chocolate Bar (40g)
♻ Recyclable box.
Great Gift
I bought 5 for the school teachers and they just loved it, the service was great and delivered on time. I totally recommed this gift set for somebody special that you want to get a smile from their face.
Christmas Surprise
Sent it to my daughters friend so it can be hidden until Christmas Day . Something for her to share with her friends .....I'm sure they will all live it 😊🎄🤶🏼
Excellent service
I bought this as a gift . I was very pleased with how quickly it arrived .
Family weekend
I bought two of these boxes. One for house warming gift and one for family weekend gathering. Went over very well. The box I brought for family weekend didn't have peanut brittle in it. Not sure about one I gave away. Chocolate covered licorice was our favourite.
Fast & Convenient
I called before I placed my order because the online shop said 2-3 days before the package would be ready and I needed it next day. They were very courteous, answered all my questions and assured me they had everything necessary. I ordered the basket and it was ready later that day! Excellent service and so polite!