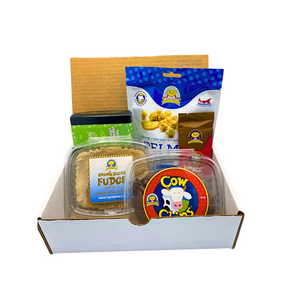 This mix of products highlights all of our best-selling items in a perfect assortment. 
Packed for shipping your products will arrive in style whether a treat for yourself or a gift for someone else. 
Includes:
COW Chips (85g)

ANNE Caramel Corn (50g)

Chocolate Bar (40g)

Fudge (220g)

6 pieces Boxed Chocolates (80g)
♻ Recyclable box.
Goodness in a box
We received everything from the order, and waited patiently to share it with our whole team. I am so thankful for the quality of these treats.
Perfect gift
A perfect way to give a little piece of Prince Edward Island to someone.
This was perfectly wrapped and made a wonderful thank you gift for a family member.
It was shipped and received quickly.
Love that it is lovingly made IN CANADA too!
Gift
Thanks, it was a gift for my daughter that moved to Toronto. A nice gift to give from one of our favorite places.
A gift for the heart and tummy
Sadly my husband was not able to travel with us on our past trip to PEI. We thought this was a fantastic idea and he was so excited to Receive his goodie box in the mail. He raves about the cow chips and the other products. He was so happy to have a little slice of PI. The price is reasonable. And a wonderful gift idea.
Delightful parcel
Thank you for the lovely Chocolate parcel of goodies beyond extraordinary!!!! I shared the carmel corn , cow chips , the is fudge is still in hiding as it looks scrumpous and must have this to enjoy in the fall. The chocolates (carmel) were delicious and are gone. When I decide to reorder I will definitely get a larger gift basket so I will be able to share my special smiling treat to other Seniors