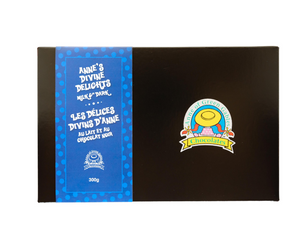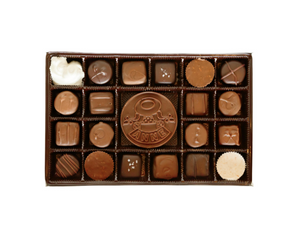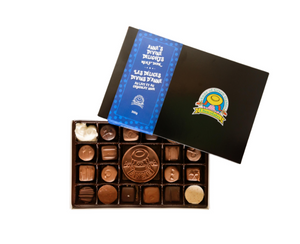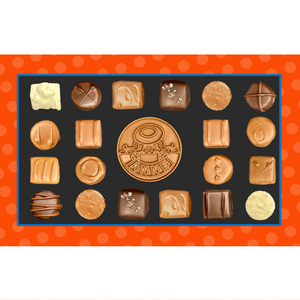 A collection of our tastiest milk and dark single chocolates! The perfect selection to share with a group or to test a variety of our chocolates. 
Variety is the spice of life and this milk and dark assortment has something for everyone.
One box contains 21 pieces at 300g. Shelf Life is 1 year. 
Contains:
Peanut Cluster
Raspberry Cream
Anne's Caramel x 2 
Dark Sea Salt Caramel  x 2
Coconut Cup x 3
Blueberry Cream
Butter Cream
Milk Chocolate Truffle x 2
Milk Chocolate Medallion
Pineapple Cream
Sweeties (Chocolate covered fudge)
Orange Cream
Cherry Cream
Pecan Toffee
Chocolate Cream
Dark Chocolate Truffle
♻ Compostable/recyclable box.
Ingredients
Milk Chocolate (sugar, milk, cocoa butter, chocolate liquor, soy lecithin, vanilla), Semi-Sweet chocolate (sugar, chocolate liquor processed with alkali, cocoa butter, milk fat, soy lecithin, vanillin), Vanilla A Peels (sugar, palm kernel, and palm oils, whey, nonfat milk, titanium dioxide colour, sunflower lecithin, natural flavour, vanilla), Sugar, Butter, Coconut oil, Invertase, Salt, Fruit flavours, Coconut, Peanuts, Pecans, Almonds, Milk ingredients (concentrated milk, sugar, lactose), Cream, Dextrose, Vanilla. Contains: milk, soy, peanuts, pecans, almonds, sulphites. May contain: Other nuts
FAQ
Where do you ship?
Currently we ship to Canada and the United States with exceptions to some rural and remote areas.
How long does it take for you to ship my order?
Typically we ship an order within 1 - 3 business days. Keep in mind that if you place an order on Fridays we will not ship until Monday.
How much does shipping cost?
For shipping within Canada our rates are $15 on all orders and $20 for shipping to the US. If you choose Xpresspost it is $32 for Canada and $38 for the United States.
If you buy more than $99 CAD worth of product then shipping is free!
Please note that Raspberry Cordial is not included in the free shipping offer and has a specific shipping charge due to the weight and packaging required. Raspberry Cordial is currently only available for shipping in Canada.
When will I get my order?
When your order is processed you'll receive tracking information which will allow you to follow your order until it finds you! Depending on who your order is being shipped, your destination, and the method you choose at check out here is a rough estimate of shipping times:
Eastern Canada (including Ontario & Quebec): 4-6 days Xpresspost or 3-5 days Standard
Western Canada: 4-6 days Xpresspost or 10-14 days Expedited
United States : 4 – 6 days Xpresspost or 10-14 days Expedited
Will my chocolate melt?
We're happy to say that we rarely encounter issues with melting when a product is in transit. However, conditions may be different when delivered to your door or in a postal box so we strongly encourage you to track your package and pick it up as soon as possible to ensure nothing melts. Especially when you order during summer months.
Nutritional Information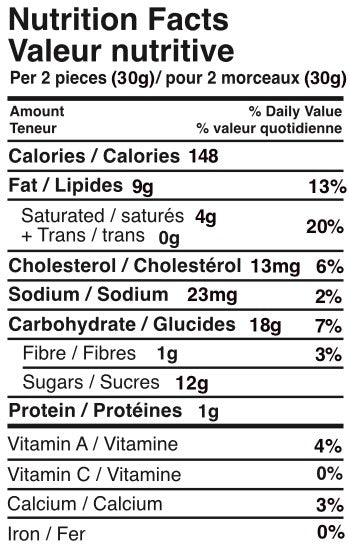 Love selections of chocolates
The chocolates taste INCREDIBLE. Love selections of chocolates.