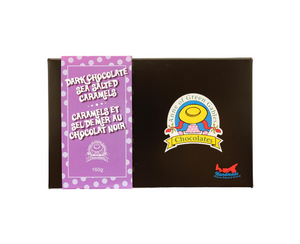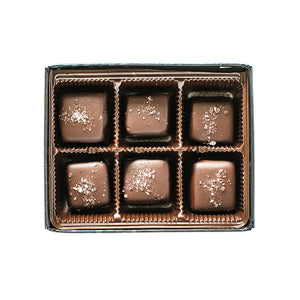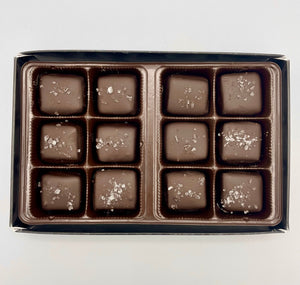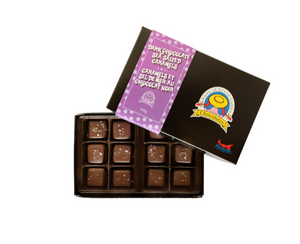 "Outstanding Chocolates! These are delicious! The combination of flavors is absolutely perfect, and the quality of the candies is outstanding! I will definitely order more when these are gone!"
- Mike
A traditional Prince Edward Island Caramel recipe surrounded by decadent dark chocolate with a hit of sea salt.
Who says you can't be sweet and salty at the same time?! 
6 piece box contains 80 g.
12 piece box contains 160 g.
Has a 1-year shelf life.
♻ Compostable/recyclable box
Ingredients
Sugar, Butter, Cream, Semi-Sweet Chocolate (sugar, chocolate liquor processed with alkali, cocoa butter, milk fat, soy lecithin, vanillin), Vanilla, Soy lecithin, Salt. Contains: milk and soy May contain: nuts including peanuts
Salted caramels
These are the best caramels ever!
Dark chocolate caramels
I always buy these dark chocolate caramels with a little bit of sea salt sprinkled on top they are my favorite and I give them out as birthday and Christmas gifts. I also use them as stocking stuffers. Everyone I give them to love them.
These are the BEST sea salt caramel chocolates anywhere!
Some of the best sea salt caramels I've ever tasted.
Delightful
Salt+ dark chocolate+ caramel = Heaven. You are making a great decision in your day if you purchase this excellent quality treat.