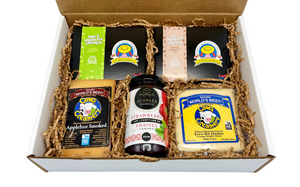 Merry, Berry N' Dairy Gift Box
While it's hard to believe, not everyone has a sweet tooth. If that's the case for your giftee then be sure to pick up this gift box, perfect for all palates!
It contains:
2 small Chocolate Boxes
1 PEI Preserves
2 COWS Creamery award winning cheeses
It will be delivered in a cardboard box with paper crinkle to protect the items. 
*Please note that exact items and flavours may vary from the photo.