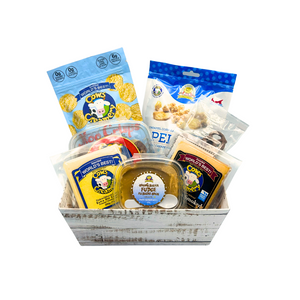 The "Sweet 'n Salty" gift basket is a delectable assortment of gourmet treats designed to satisfy both sweet and savory cravings. This basket combines the rich and creamy goodness of COWS cheese with the indulgent sweetness of premium ANNE Chocolates.
It contains: 
Moo Crisps (50g)

Anne Caramel Corn/PEI Mix (50g)
COW Chips (85g)

Chocolate Covered Pretzels (70g)

COWS Extra Old Cheddar Cheese (200g)

COWS Appletree Smoked Cheese (200g)

Fudge Maple/Brown Sugar (130g)
When ordered it will be wrapped in plastic cello with a bow on top.
*Please note that exact items and flavours may vary from the photo.